Screen Doors in Mesa, AZ
Over time, sliding screen doors experience wear and tear. When that happens, insects and dust can find their way into your home, making you less eager to open up your home and let the fresh air in. Let the experts at Lines Sunscreens, LLC replace your old screens with custom-made solutions of the highest quality. We're happy to serve homeowners and businesses in the Mesa, AZ area.
The Very Best Screen Doors
Customers choose us for screen door products because they know they'll get an absolutely fantastic product at a great price—not to mention the superior customer service that goes with it. check out some of the benefits our products offer: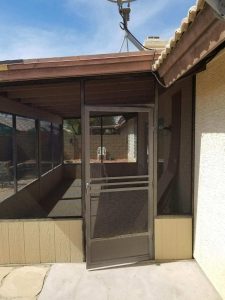 Long lasting: Our patio screen doors are sure to last a long time thanks to their tear-resistant material. It's important to us that your screen withstands the forces of nature, so you can enjoy a warm breeze on those nice days.
Budget friendly: With us, you're guaranteed the lowest prices in the Mesa, AZ area. In fact, we'll even match quotes from other contractors! We believe great quality should come at an affordable cost. We offer you both, with screen door products of the highest caliber.
The right fit: We make sure all sliding screen doors we install fit perfectly. We do this by measuring your doorway, then crafting a screen that will fit better than any other on the market. Our professionals understand that every project is different, and it shows in the finished product.
Discover Durable Screen Doors
Love nice weather, but not pests or dust blowing in? It's time to protect your home or business with a new screen door. Lines Sunscreens, LLC offers free quotes to get you started on the installation process. You can call our experts at 480-833-4154 to learn about the screen door that's best for you.