Screen Doors in Gilbert, AZ
Having screen doors on your property allows you to enjoy the lovely Southwest weather, without having to put up with bugs or debris making it into your home or business. At Lines Sunscreen, LLC, we create custom screen doors to help you get the most of fresh air and gentle breezes, without inviting anything unwanted into your building.
Not only can we fabricate custom screen doors perfectly suited to your frames, but we're also the authority on sliding door screen repair in Gilbert, AZ.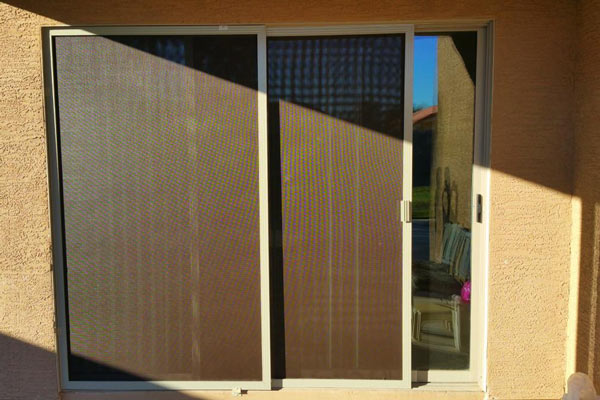 Our Screen Doors
Sturdy:

Need a sliding door screen replacement in Gilbert, AZ in place of your flimsy old one? Our screen doors are made to resist damage as much as possible. Their frames can withstand wind and rain, and the materials we use for the actual screen are some of the best available today!

Affordable:

We're known throughout the East Valley for providing quality screen doors at highly affordable prices. If you bring in a written quote from a contractor or another specialist, we'll even match that price! We believe in remaining as competitive as possible with our rates.

Custom Sizes:

If you have an irregularly-sized door, you can turn to us for help. We offer custom made screen doors, which guarantees a perfect fit and ensures your screen solution is perfectly tailored to your home or business. Our craftsmanship and attention to detail are evident in every custom door we create.
Contact Us
Looking to enjoy a bit of fresh air in your home or business? The best thing you can do is invest in screen doors. Why spend another beautiful afternoon with your doors shut in fear of insects flying in? With screen doors, you get the chance to enjoy every season, while keeping your interior comfortable and safe. Contact Lines Sunscreen, LLC today at 480-833-4154 to learn more about our screen door products!