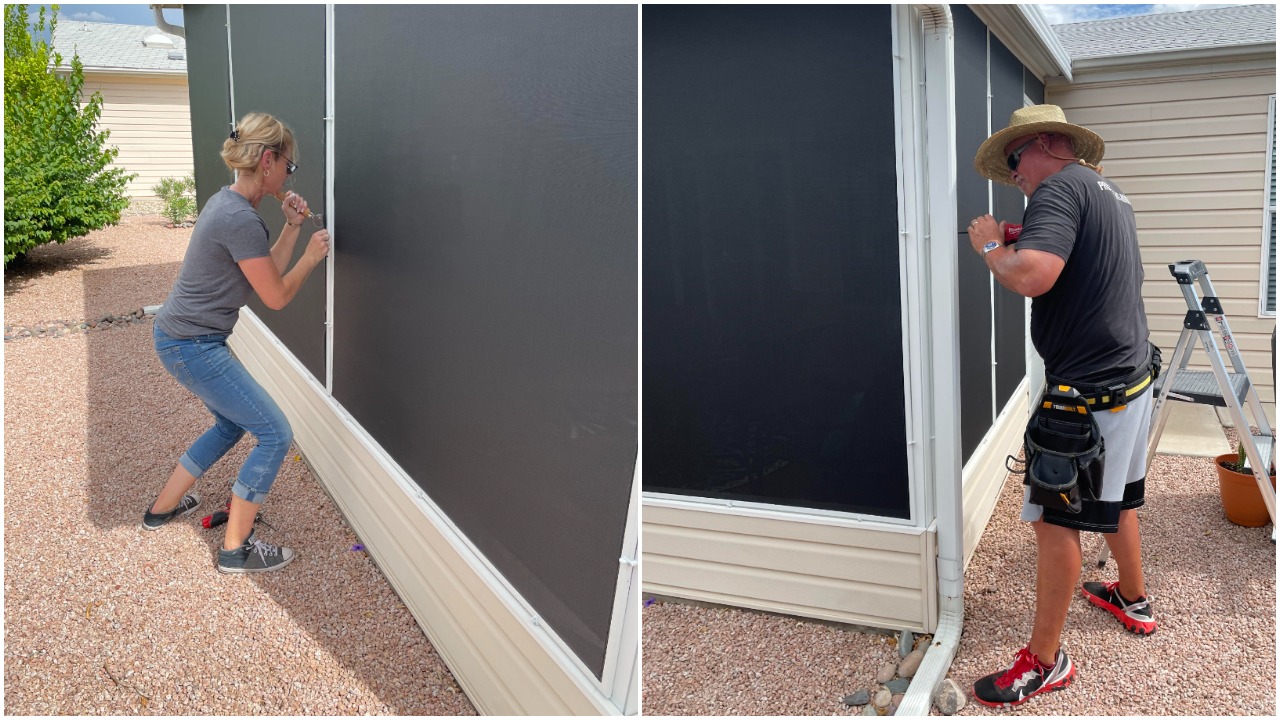 Do-It-Yourselfers, You Measure, We Will Make!
We manufacture window screens to fit the specifications for your DIY project!

Ask us about re-screening! If the existing window frames are still good, we can rescreen them with new fabric!
SPECIAL DISCOUNTS
Ask About Our Discounts For Military Service Members And Veterans, First Responders, Realtors, Returning Customers, And Local Contractors.
* Labor Excluded
What We Can Do For You
Option 1) DIY You measure, we manufacture and you install. There is no minimum order. No job too small. Call Deb at 480-833-4154

Option 2) WE measure, WE manufacture, YOU install.There is no minimum order for us to measure and you install. Our field expert will carefully measure and teach you everything you need to know on how to install for a very small fee. We are here to save you $$ and get exactly what you need with the best craftsmanship and materials in the industry. Call Deb to make arrangements 480-833-4154

Option 3) We measure, manufacture and install. Call or text Deb for a quick over-the-phone estimate or to make arrangements to plan a visit from our field expert. Call our field expert Ryan at 480-617-0867  for serious inquiries or quotes and larger projects. (Due to the high demand, there must be a minimum order of 6 window screens. Sun/solar screens only until end of July)
One Stop, "Mom & Pop" Screen Shop
When serving our community is like serving our family. We are here to save you $ money as well as get what you need for your windows.
We have unmatched competitive turnaround on all our orders
Call or text to make an appointment to drop off screens or visit our shop
Save $$ and get what you need at nearly WHOLESALE pricing. Bring us your existing frames and we'll take care of the rest. Your frames can be used as templates for new screens. Frames in good condition? We'll Re-screen your frames with new fabric. We are a retail company with wholesale prices! Who says you have to be a professional to do what they do? Simple project you'll feel like a pro by the time you're finished and save yourself $ as well. Take the first step and call Deb she will be there for you from start to finish.
For questions, advice on DIY projects, quotes, or schedule a visit to our shop call or text Deb Lines (Owner)
(480) 833-4154
Need a
Field Expert

to measure and install for you so you can relax until your project is completed?
For serious inquires & to schedule your field expert visit you can call, but texts are preferred! Call Ryan for in-house visits and to recieve a quote. This is the industry's busy season but if you're looking for quality, excellent craftmanship, unbeatable turnaround and price both Ryan and Deb will guarantee it.


Ryan Colby


(480) 617-0867


ROC# 342512
Call or text Deb to make arrangements for a shop visit or to place an order (DIY you measure/install & we make) 480-833-4154
Through April to July all "field orders" will require a minimum of 6 requested screens or minimum order of $500 (1 screen per window unit including the operating and stationary window as 1 window). For field orders we are not measuring bug screens at this time until September but we are still taking field orders for sliding screen doors. You can order as many screens as you want, either starting with a small order of 6+ or have all of your windows done at once. We will file the quote & measurements for you until you're ready. See our DIY option where there is no minimum, no restrictions, and all screen orders are welcome. Call the office and talk to Deb if you need help with any of those services our field tech is not able to provide.
If you would like to measure your own windows and do the install yourself, we will manufacture your screens to your specifications and provide you with a helpful installation guide. Please call or text the office at 480-833-4154 to get started. Save $$ money by doing something that you can do yourself. There is no minimum for DIY orders. We do repairs and rescreens too! No job is too small. We will walk you through it from start to finish. We are experienced professionals standing by ready to answer any of your questions and give advice. You will feel like a pro once you've finished.
Lines Sunscreens, LLC is proud to announce we are now offering rolldown shades to pair with our sunscreens. Rolldown shades are a great addition to any home or office building and will help in the summer to keep the sun from heating up your space. We are currently offering 80%, 90%, and 95% rolldown shades in a variety of colors, so call today to speak with our team about installation. Our shades are built sturdy and made to last a lifetime.
Lines Sunscreens, LLC manufactures "In-house" at our location on Gilbert & Baseline. Turnaround for finished orders is approximately 7 business days, sometimes even sooner. Call or text Deb at the office line 480-833-4154 today!
Hope to hear from you soon!
What am I waiting for?
Window Screens in Gilbert, AZ
Lines Sunscreens, LLC is the authority on new window screens and door screening services. Whether you need new screens, screen repair, or help with mounting and installation, we'll go above and beyond to provide you with exceptional products and services. We have bug screens, sunscreens, sliding screen doors, rolldown shades and so much more. Our business is owned and operated by 5th generation Arizona natives, proudly serving East Valley cities for nearly 50 years!
Contact Us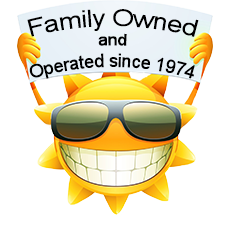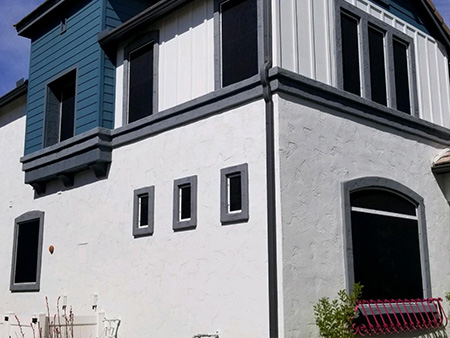 Beautiful Window Screens to Protect Your Home
Living in Arizona means getting used to the bright sun and the heat that comes with it. Even lifelong residents can get fed up with the blazing sunlight day after day! That's why it pays to protect yourself and your home from the blinding rays with window screen installations in Gilbert, AZ. Not only are window screens great for keeping the heat and light at bay, but they're also a great way to open your home to fresh air without inviting in pests and debris!
At Lines Sunscreens, LLC, we provide all manner of home window screen replacement options for our clients. We can create the perfect window or door screens for your home, so you never have to suffer from excess sun. Our products are custom made, so you can rest assured the fit is always right for your window, door or patio enclosure. We aim to please with the quality of our window items, and we deliver on a promise of quality every chance we get. From taking measurements and fabricating the right screen solution, to installation and screen repair in Gilbert, AZ, we'll make sure you're getting every penny's worth of value from your investment in privacy screen protection. We also love working with construction companies—talk to us about contractor discounts!
If you already have screen doors or windows, you may need to get them repaired every so often. Screens with holes or cracks stop being useful, so it's important to have a company you can trust to fix them. Not only can we fix them, but we'll do it for you at excellent prices! We offer residential and commercial screen repair, delivered by experts who get the job done efficiently. We pride ourselves on the quality of our work when it comes to privacy screens, window screens, and screen repair.
Do not wait another minute to buy that perfect window screen for your doors and windows! Let us at Lines Sunscreens, LLC help you custom make the doors and windows to fit perfectly in your home or business.
We offer a diverse range of new window screens for doors and windows, and we have the ability to create custom privacy screens and sliding door screens.
While most manufacturer warranties cover 5 years, we offer an industry-best labor warranty that covers 10 years! You pay for the cost of materials, we will guide you through the process from start to finish, and provide you with all the tricks of the trade for your installation! It's part of our dedication to your satisfaction.
We're affiliated with the Better Business Bureau (BBB) and are proud to maintain a great A-plus rating.
Our expert screen technicians are here to help you from beginning to end, from your estimate to the installation and maintenance after!
We offer various discounts to military service members and veterans, first responders, returning customers and local contractors.
Experience Total Satisfaction
Ready to keep your home cool and comfortable, so you can enjoy life in spite of the Arizona sun? Contact us today for a free quote on window screen installations and door screen products and services.
Proudly providing quality home window screen replacement and sliding door screen repair to the following areas:
Although our service area is primarily the East Valley we love to help do-it-yourself business and home owners anywhere we can! We are conveniently located near the US 60 East Superstition freeway
Gilbert
Mesa
Chandler
Florence
San Tan
Queen Creek
Apache Junction
Awatukee
Sun Lakes
Scottsdale
Fountain Hills
Gold Canyon
Maricopa