Window Screen Repair in Gilbert, AZ
Window and door screens can rip, tear or develop holes over time, caused by insects, animals or even the weather. If you have screens showing their age or suffering damage, contact Lines Sunscreens, LLC for new window screen repair in Gilbert, Mesa, Chandler, and Tempe, AZ. Our experienced repair technicians will ensure your screens get the repairs they need to remain protective and reliable.
We offer all manner of services, spanning commercial and residential window screen repair in Gilbert, AZ. We are constantly on the lookout for new materials and techniques to make a repair easier and longer-lasting.
*Bring your good screens with you and we will clean them and make them look almost new without Re-screening them for a small fee!*
Need a "
Field Expert

to measure and install for you so you can relax until your project is completed?
Can call, but texts are preferred!


Ryan Colby


(480) 617-0867


ROC# 342512
For questions, advice on DIY projects or schedule a visit to our shop call or text Deb Lines (Owner)
(480) 833-4154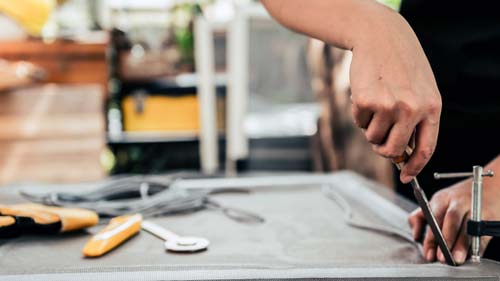 Our Window Screen Repairs
Materials:

We have many different materials to choose from when repairing your screens, to ensure the repair stands up to the test of time. We only use the very best materials from brands we trust, including durable, easy-to-clean Phifer SunTex and Textilene mesh. Or, for a more durable option, we offer the tear-resistant Superscreen (Nano50) to keep out unwanted bugs! We choose these superior materials for their proven sun mitigation properties and their resilience against ripping, tearing and other damage.

Maintenance:

The best way to prevent sunlight, bugs, and debris from getting into your home is to keep your sunscreen repairs consistent and well-maintained.
Before and after photo of what a hawk did to a customers screen making a nest out of the fiberglass mesh
We re-screened the original frame(s) and replaced the material for a tear-resistant PVC bug screen mesh instead.
We re-screened the original frame(s) and replaced the material for a tear-resistant PVC bug screen mesh instead.
Contact Us
Having a company you can trust to provide you with new window screen repair services is important. From residential to commercial screens and even patio screen doors, Lines Sunscreens, LLC aims to provide maintenance and repairs you can count on. Reach us today at 480-833-4154 to take care of any window screen repairs, sunscreens, screen doors, and rolldown shades you may have and get the benefit of our industry-best 10-year warranty!