Frequently Asked Questions
What are Solar Screens?
Sunscreens, also called solar screens or privacy screens, are specially created window screens intended to cover an entire window. Although many are used for aesthetic purposes, the primary purpose of the sunscreen is to block heat and the sun's rays. The sun's rays can be very damaging; these solar screens effectively prevent most of this damage. There are other benefits of installing sunscreens on windows, especially in Arizona. The special fabric these screens are constructed from can help you maintain an eight to fifteen-degree temperature reduction in your home or office. This is a huge temperature difference, especially since many cities and towns in Arizona experience significant heat. The fabric that the sunscreens are made from is a densely woven polyester yarn coated with PVC Vinyl Coating. This special coating enables the sunscreens to endure years of weathering from the sun's intense heat.
In other words, solar screens intend to reduce 80% to 99% of the sun's heat before it enters your home or office through your windows. We can get fabric in 95%, 97% and even 99%. If you're looking for blackout curtains and you don't want to lose your view, consider 95-99% instead. The considerable reduction in the amount of solar heat emitted through your windows can reduce the heating and cooling your home requires. This lets you save money on energy bills, which home and business owners greatly appreciate. Shades, curtains, and other window coverings can provide privacy and possibly even decor, nothing more. FUN FACT: Sunscreens are proven to protect your window coverings from melting, they'll even protect your artificial turf from melting. Protect your investments!
How do solar screens work?
Here is an overview of the three factors that help make solar screens keep your home or office cool as effectively and efficiently as they do:
Shading – by having high-quality sunscreens installed on the exterior glass that surrounds the entire window, the amount of heat that can enter your home or office is drastically reduced. The protective properties of the sunscreen provide a layer of shielding that limits the amount of sun that can penetrate your glass. The higher the sun is in the sky, the more effectively the sunscreen can block heat. This is because the sun hits the mesh of the sunscreen at a certain angle when it's higher in the sky, which dramatically enhances the sunscreen mesh's ability to perform.
Reflecting sunlight – most home and business owners welcome sunlight, but intense, overpowering heat isn't. The beauty of these sunscreens is that they allow manageable amounts of soft, filtered sunlight into your windows while simultaneously reflecting harsh, direct sunlight away from the glass.
Absorption – The solar screen can absorb heat and distribute it into the air surrounding the screen, which diminishes the amount of heat that impacts the windows. The installed sunscreens provide a natural convection process, an ongoing flow of fresh air that moves around the glass. As the material of the screen causes the heat to dissipate, the air between the glass and the screen becomes hotter, and then the heat rises. The heated air that rises is discharged through the holes at the upper end of the screen, while cooler air is forced through the holes near the bottom.
What are the benefits of having sunscreens installed?
There are many benefits of having sunscreens installed on your exterior windows. Arizona's scorching 100-degree temperatures can be relentless on your home's interior and utility bill! Suppose you're frequently stuck in an oppressive home or office that seems as if it is unable to cool properly. In that case, sunscreens are the perfect product for you if you need help managing sky-high utility bills properly or if you're fed up with battling the annoying glare on your TV or computer screen.
Furthermore, sunscreens offer numerous benefits, such as:
There will be energy savings by reducing your air conditioning use by as much as 30%.
You will considerably lower your utility costs! Sunscreens typically pay for themselves within two to four years!
Your comfort will be maintained in your home, as sunscreens will provide cooling inside your home up to a whopping FIFTEEN DEGREES!
There will be a noticeable reduction in the fading and sun rot on your furniture, drapes, and carpet, typically caused by relentless ultraviolet sun rays.
You will enjoy a brighter, more inviting home or office with healthy amounts of sunlight. Sunscreens make it possible for you to no longer live as if you're in a mausoleum by keeping your curtains/blinds/shades closed all day! No one wants to spend time in a dark, drab room. Sunscreens provide sunlight filtering, leaving the heat outside while enabling you to enjoy softer and more pleasant light from the sun.
You will notice an increase in your daytime privacy while maintaining a clear view anytime you look out your window. You can see out the window through the sunscreen, but no one can see in!
You will maintain your view while simultaneously blocking the sun's glare.
Sunscreens enable you to experience a cool breeze while still enjoying the benefits of UV-ray blocking.
Sunscreens will fit virtually any size window, including arches and circles.
You will save on winter heating bills! Sunscreens act as a barrier to the frigid winter temperatures, reducing your glass's wind chill factor.
They work with all windows, whether they're opened or closed.
Utility rebates are often available for installing sunscreens.
They're less expensive than most drapes, awnings, or blinds.
Since the sunscreens can conceal dirty windows, the need to conduct window washing is minimized.
The exterior of your home will become more beautiful and attractive.
The value of your home or office will increase.
No unsightly bubbling, peeling, or scratching will be found with window screens.
Are sunscreens available in different colors?
YES! The sunscreens certainly do come in different colors, and you can take your time to determine which color would work best for you. In fact, you will be amazed at the wide variety of colors that are available for you to choose from. The best way to find the color that best meets your needs is to visit our shop to see fabric/color samples or with an in-home consultant. Call to schedule a time! The consultant can show you a variety of samples containing different colors, and they can also teach you how each one performs differently. Allow our knowledgeable and friendly consultant to educate you about the different colors and fabrics, so you can choose to best meet your needs. Check out our sunscreen gallery to take a sneak-peak at our available colors!
Do certain colors stop more heat or glare than others? What are the advantages of each of the different colors?
Choosing a color is a critical choice you must make when ordering your sunscreens. There are four rules of thumb you need to be aware of.
The darker the color, the better the sunscreens will stop the heat. Black | Brown
The darker the color, the better your outward visibility. Black | Brown
The lighter the color, the better your daytime privacy. Desert Sand | Beige | Gray
The lighter the color, the more the amount of light that will enter the room. Desert Sand | Beige | Gray
When choosing a color, remember, beauty is in the eye of the checkbook holder! As the homeowner, only you can decide what is most important to you. Heat Reduction? Glare Reduction? Visibility? Aesthetics? Privacy? Reduce Fading? All of these are important considerations, and one of our knowledgeable in-home consultants will be your best asset in finding the correct color for your needs.
Do some sunscreens block more heat than others?
Yes! Many styles of shade screen fabrics have come and gone over the years, and Lines Sunscreens carries a wider variety of shade screen fabrics and colors than anyone in our area. Through the years, many styles of outdoor sunscreen fabrics have been developed. Shading coefficients have varied from the lightweight 65% Solar Insect screening to maximum duty 90% SuperSolar Sunscreen. Between these low and high ends, there are many other styles and grades which are currently available. An in-home consultation will allow you to personally see and handle the entire gamut of fabrics available and decide which best suits your particular needs. By having us in your home, we will help answer any questions, and identify any advantages or disadvantages that are associated with each of your choices.
How will the sunshades be installed on my windows?
Most standard window sizes require screws with metal die-cast turn clips to hold the sunscreens in place. These self-tapping screws will be mounted wherever we feel it would work best. Therefore, they will be mounted onto either the wood trim surrounding the window, the stucco surrounding the window, or possibly the frame of the window itself. Unusual situations sometimes arise, but we're almost always able to work around them. Whenever we encounter a situation where installing screws is not feasible, it can typically be overcome using a "Tape'n'Track mounting system.
Every situation is different and will require a particular mounting procedure. However, with our professional installation team's years of experience and expertise, they're always able to quickly determine the proper way to install your new screens. An in-home consultant will be more than happy to answer any questions regarding installation.
Will I still be able to see out of my windows?
Absolutely! In fact, most of our customers are VERY surprised at how clearly they can see out through their windows after their sunscreens have been installed!
There's not a Solar Screen made that you can't see through, but some styles and patterns do give better visibility than others. The amount of visibility your sunscreens will have depends on the degree of heat reduction you are seeking. As there are tradeoffs with everything, the higher heat reduction rating, the denser the fabric, and therefore, the less visibility you will retain. In addition, the darker the color of the sunscreen fabric, the better the visibility (and heat reduction).
While it's true that having sunscreens will slightly alter your view looking outside, the real question you should ask yourself is how much visibility are you currently getting through the drapes or mini-blinds that are always pulled shut? Chances are, you will probably enjoy more light and visibility with Solar Screens installed than you do now!
How do sunscreens compare to blinds, curtains, drapes and other window coverings when it comes to heat reduction and price?
Solar screens are the most effective way to keep your home cooler than any other type of interior window covering on the market. In order to understand why, you first must know that when the sun shines through the windows, the temperature increases inside your home or office for two primary reasons.
First of all, when sunlight pours directly into a room, it can be intense and overwhelming. A great amount of heat and energy also simultaneously enter the room. Secondly, the actual window also becomes extremely hot after its exposure to the direct sun. The sun radiates heat from the surface of the window directly into your room, equivalent to the glass on your oven door heating your kitchen while you bake.
Most people believe that if they close their curtains or blinds, it will cool the room. However, this is ineffective, as closing the interior window coverings only keeps direct sunlight from pouring into the room. Still, the window's hot glass continues to transmit heat through the window coverings! Attempting to prevent the heat from being transferred straight into your house with interior window coverings is similar to trying to keep your kitchen cool by hanging a dish towel in front of the oven door! It's quite obvious that a mere dish towel can't keep a kitchen cool while baking, so it's amazing that so many homeowners believe blinds and curtains would be effective at keeping a room cool.
While blinds or curtains are installed inside your home, directly over windows, solar screens are installed outside, in front of the glass! This allows the screen to reduce the amount of direct sunlight blasting into the room (the first source of heat) and helps keep the window much cooler (the second source of heat). On average, they can reduce the temperature between eight and fifteen degrees, making your home more comfortable, saving money on utility bills, and protecting furnishings and window coverings from fading and other types of sun damage.
Furthermore, solar screens cost less than most other window coverings, and as a result, they typically pay for themselves in a short period of time! The money you save from using your air conditioning less frequently alone pays for itself within 2-4 years! These savings don't consider that the sun's harsh UV rays aren't ruining your home's window coverings and furnishings!
Some homeowners believe that growing a tree can provide adequate shade, and though it can, who has twenty years or so to wait until the tree is mature enough to provide such protection? By then, you will have spent astronomical amounts on air conditioning costs when sunscreens could have saved you so much.
How do sunscreens compare to window tinting?
Solar Screens are more effective at keeping your home cool than any other form of interior window covering available INCLUDING TINT. To understand why, you first must understand that when the sun shines through the windows, the home is getting hot for two main reasons.
First, the direct sunlight pouring into the room brings with it immense energy and heat. Second, the WINDOW ITSELF also gets extremely hot and radiates heat from the hot glass surface into the room. In an attempt to keep the house cool, some people will tint their windows. Tint has its uses, but when it comes to keeping your home cooler and more comfortable, Solar Screens are far superior! Here's why;
Beware! Tinting a window can be tricky to your senses (and hazardous to your window). Standing next to a window that has just been tinted, your skin does not feel as hot because the sun's infrared rays (the rays that make your skin feel hot) are being filtered…but remember, tinting the window only filters the sun's infrared rays (heat energy) from getting past the tint, but where does the heat and energy end up?
Remember, tint is adhered directly to the inside surface of your windows. That heat and energy is now trapped directly on the surface of your window! THE WINDOW'S GLASS IS NOW HOTTER THAN EVER BEFORE, AND THAT SUPER HEATED GLASS IS NOW RADIATING MORE HEAT INTO THE HOME THAN EVER BEFORE! In addition, this additional heat can burst the seal on your dual pane windows. It is for this reason that applying tint to your dual pane windows will generally void the windows' warranty.
But tint is deceiving because it's unlikely you'll ever notice that the glass window is now radiating more heat into the room than before! This is due to the fact that the hot glass warms the air that comes in direct contact with the glass inside the home, and then rises to the ceiling forming a "hot air blanket". As more hot air accumulates inside the home, this "hot air blanket" accumulates and its level gets lower and lower in the room. The net result is that many homeowners find that even after applying tint to their windows, the home feels uncomfortably hot, even though their skin does not feel as hot while standing next to the windows! They are left to scratch their head and wonder why!
Unlike tint, Solar Screens are installed outside in front of the glass! This allows the screen to not only reduce the amount of direct sunlight blasting into the room (the first source of heat), but they also help keep the window itself much cooler (the second source of heat). On average, they can reduce the temperature between 8-15 degrees, making your home more comfortable, saving money on utility bills, and protecting furnishings and window coverings from fading.
For further confirmation of the cooling effect solar screens can have on your home, remember that our local utilities such as SRP often offer energy efficiency rebates for installing them on your home … but this has not been the case for Tint, Plantation Shutters, or any other type of interior window covering. Remember, when it comes to saving energy, Sunscreens will keep your home cooler than any other window covering available!
How long does it take before my sunscreens will have paid for themselves by way of energy savings?
For the return on the dollar, Sunscreens are one of the best investments out there! Studies have shown, that on average, sunscreens pay for themselves within two to four years. Considering they last fifteen to twenty years, it is surely a worthy investment!
Think about it: What other investment can you totally regain all your money with no risk within two to four years? That is a 25-50% annual return on your investment! Buying sunscreens from Lines Sunscreens is just "common cents"!
And remember, we haven't even considered the savings realized by not having to replace faded carpets, drapes, and other home furnishings destroyed by the sun's harmful UV rays!
Can solar screens harm my windows?
It is only natural that you would wonder whether solar screens could harm your windows since you've decided to make this important investment. However, there is no need to worry, as solar screens will not harm your windows in any way. Although sunscreens cover your windows, they won't actually come into contact with your windows, so there is absolutely no way they can cause damage to incur.
Can sunscreens help reduce fading, yellowing and sun rot?
Yes, sunscreens will dramatically reduce yellowing, fading, and sun rot that occurs on drapes, carpets, furnishings, and wallpaper. Additionally, home and store owners will notice a significant reduction in the fading of products on shelves. UV rays can be very damaging, so purchasing the right sunscreens is extremely important to preserve furnishings, decor, carpets, and more in your home or office.
How much ultraviolet light do Sunscreens block?
The amount of UV light that is blocked depends on the weave and openness of a particular fabric. Generally, the UV blockage percentage is equivalent to the openness factor of the specific fabric. For instance, a 90% solar screen fabric will block as much as 90% of the sun's UV rays. '80%, 90%, and 95% UV blockage screens are available. 80% and 90% are the same vinyl-coated polyester fabric, while 95% comes in a variety of colors and is made from a custom-made fabric. We also provide pet screens, which are still the same fabric your screens are made of, but the weave isn't as tight, and it is only offered in black. These pet screens provide approximately 70% UV blockage while providing greater airflow.
How long do shade screens typically last before replacement is required?
Lines Sunscreens rescreens and you can either bring your screens into our conveniently located shop or have our field expert come to you. The screens manufacturer warranty for the color of the screen is for up to 10 years max, along with the limited lifetime warranty for the screen fabric. If you have light color screens we recommend each summer doing a walk around inspection of your screens to catch any that have discolored due to the Arizona UV sun rays. If you notice any discoloration, return your screens to our shop, and we will happily rescreen them. If you cannot come to our shop, we can schedule a day and time for a field expert to visit you. Let us know which works best for you.
What kind of warranty do you offer with your screens?
OUR WARRANTY COVERS ALL MANUFACTURING AND INSTALLATION DEFECTS FOR THE LIFETIME OF THE PRODUCT PER THE ORIGINAL OWNER/PURCHASER. SAID WARRANTY COVERS ANY FLAWS IN THE FABRIC, THE OPENNESS OF THE WEAVE, FRAME JOINT SEPARATION OR FAILURE, AND ASSURES SCREEN INSTALLATION MEETS OR EXCEEDS INDUSTRY STANDARDS THROUGH OUR QUALIFIED INSTALLERS. SCREEN FABRIC COLOR FADING AND DISCOLORATION IS GUARANTEED FOR 10 YEARS, AND PAINT ON FRAMES IS GUARANTEED NOT TO FADE, FLAKE, OR CRACK FOR A PERIOD OF 3 YEARS AFTER INSTALLATION. NATURAL OCCURRENCES, SUCH AS WEATHER OR ANY OTHER ACTS OF GOD, OR DAMAGE OF SCREENS DUE TO ABUSE, ARE NOT COVERED UNDER SAID WARRANTY. NORMAL WEAR AND TEAR OF SCREENS DUE TO REMOVAL AND REINSTALLATION FOR ANY REASON IS NOT COVERED UNDER WARRANTY AND IS TO BE EXPECTED. THE CUSTOMER IS REQUIRED TO MAINTAIN AND CHECK THE SCREENS, CLIPS, AND SCREWS EVERY 6 MONTHS TO ENSURE THEY REMAIN SECURE. BY NATURE, THE SCREWS AND CLIPS CAN BECOME LOOSE DUE TO EXPANSION AND CONTRACTION OF FRAMES AND WINDOWS THROUGHOUT THE SEASONS AND IS EXPECTED. FAILURE TO PROVIDE MAINTENANCE AND DAMAGE INCURRED ARE NOT COVERED UNDER WARRANTY.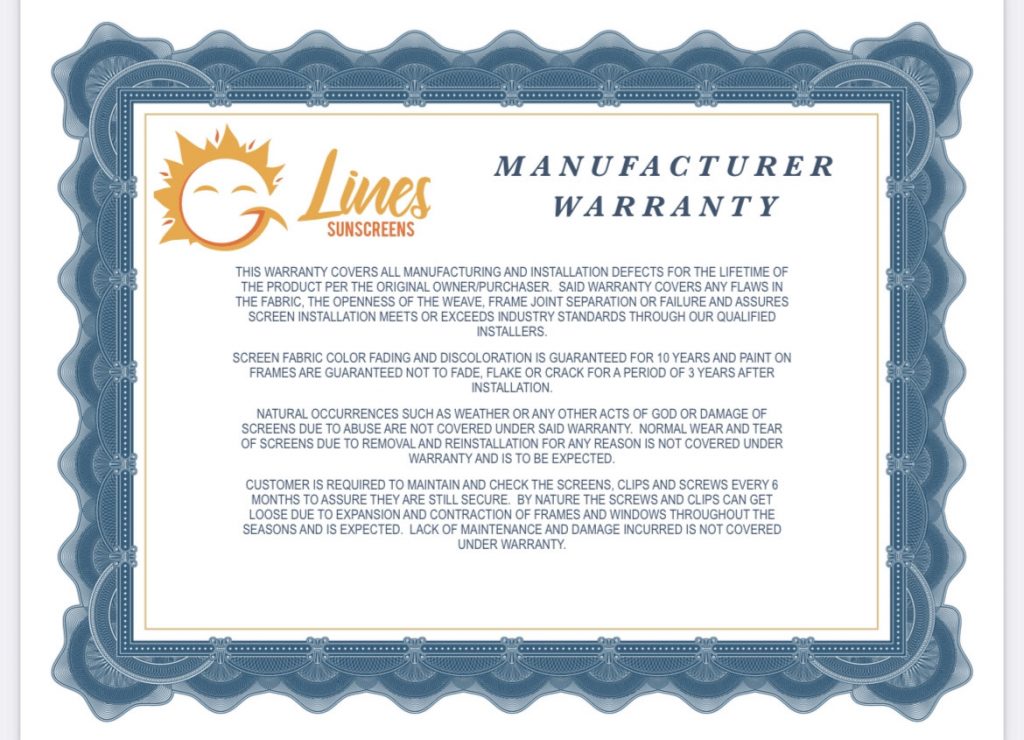 What kind of maintenance is required?
By properly maintaining your sunscreens, you can extend their life considerably. Simply clean your sunscreens using a mild cleaner regularly, and your screens should last for as long as 15 years. Ensure the cleaner is devoid of bleach or ammonia, as either of these strong chemicals could remove color from your screens. You must also ensure the turn clips remain tight and tightening them annually is necessary.
How long does it usually take to get my sunscreens or screen doors installed?
We consistently strive to provide service as quickly as possible and aim for an average turnaround time of about five to seven business days for walk-ins and DIY orders. If you prefer to have a field agent come to your home, that process is different, and it typically takes about ten business days for the sunscreens to be manufactured. The screens will then be ready for installation a short time later. However, this could vary depending on the time of the year, but you will be provided with an estimate.
Can Sunscreens keep the sun's hot rays from reflecting off my low E glass Windows and burning my artificial turf, lawn furniture, or other outdoor items?
Yes! Sunscreens will protect your turf. Light reflects off your windows, resulting in the sun's glare causing damage to your turf. Due to the light reflection from your windows, the sun's glare can often damage your turf. Sunscreens will not only prevent your turf from becoming damaged, but they will also provide protection for your window blinds and prevent them from melting.
What other screen options are available besides sunscreens?
We provide three variations of sunscreens: standard, fiberglass, and bug screens, and there is also the option to upgrade to our super screens. Please see our website menu to learn more about our super screens and to view our inventory.
Do certain colors stop more heat or glare?
Yes, certain colors are more effective than others at reducing heat and glare. One especially crucial choice you must make when deciding which sunscreens to purchase for your home is color. Here are four things to keep in mind when making this decision:
The darker the color, the better the sunscreens will stop the heat. Darker colors last several years longer than light colors. Lighter colors are more susceptible to heat and UV ray damage, resulting in discoloration and the need for rescreening sooner. Choose colors like: Black | Brown
The darker the color, the more outward visibility you will enjoy. Black | Brown
The lighter the color, the more you can take advantage of daytime privacy. Choose colors like Desert Sand | Beige | Gray
The lighter the color, the more natural light will flow inside your home. Desert Sand | Beige | Gray
Choosing the right color will depend on several factors, not just your budget. Since you're the homeowner, it's solely your decision and the decision of any co-owner to decide which sunscreens would be best, so you need to determine which qualities are most important to you. Is your main goal aesthetics? Heat Reduction? Glare Reduction? Visibility? Privacy? Reduce Fading? All of these factors must be taken into consideration before making a final decision on which color you should opt for. Remember that our very knowledgeable in-home consultants would be more than happy to assist you with choosing the color that will meet or even exceed your expectations. They can make recommendations and provide useful information that can help you make a final decision.