Sunscreens in Mesa, AZ
After being outside in the Arizona heat, you need a living space that keeps the sun at bay. Since Mesa, AZ is hot year-round, sunscreens are necessary for every home and business to mitigate UV rays and the heat that comes with them.
Lines Sunscreens, LLC is the place to go for new window screens that work. Our products reduce sun glare and keep you cool, especially during the hottest time of year. Best of all, they're custom-made for your windows, ensuring maximum protection and comfort.
Built Just for You
Our custom-sized products make window screen installation easier for you. Don't buy generic screens hoping they'll fit! With our screens, you're guaranteed a fit that's perfect, regardless of window size or type. It's the best way to get maximum value from your investment in solar protection.
We take UV mitigation seriously, too. All our window screens are made of Phifer Suntex and Textilene fabric for tight-knit protection that's unbeatable. You'll have a variety of shades to choose from so you can pick one that's best for your home or business.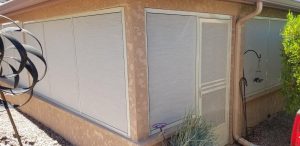 UV- and Bug-Resistant
The last thing you need is bugs getting indoors. Stop those pests in their tracks with a window screen installation that's tough enough to stand up to them. The bugs in Mesa, AZ love hot weather, but it's best they stay outside. Our rip and tear resistant screens make sure they do.
Best of all, our sunscreens prevent 95% of harmful UV rays from radiating into your home or business. They'll keep temperatures in-check, taking the strain off of your building's cooling systems and lowering your energy bills in a big way.
Let the Light in Confidently
Every building can benefit from the protection and convenience of custom sunscreens. Call Lines Sunscreens, LLC today at 480-833-4154 to get started on the customization and installation process. We'll give a free quote so you know exactly what you're paying for upfront!